Busty Anal Vampire Vicky Vixen
In this anal vampire porno video we have captured busty Vicki Vixen masturbating with a big dildo in her vampire lair. The curvy and horny vamp woke up by strange noises coming from outside of her cave. Lusty vampire Vicki was a sleep for a 1000 years and at first she was very angry. The big boob vampire saw a big cross like dildo and remembered that she had have no sex for centuries. She was so horny that she stuck the dildo all the way in her vagina…oops, she missed?! Instead she has stuck the dildo in her ass. At first she was surprised by...read the gothic story at xxxVampireSex.com.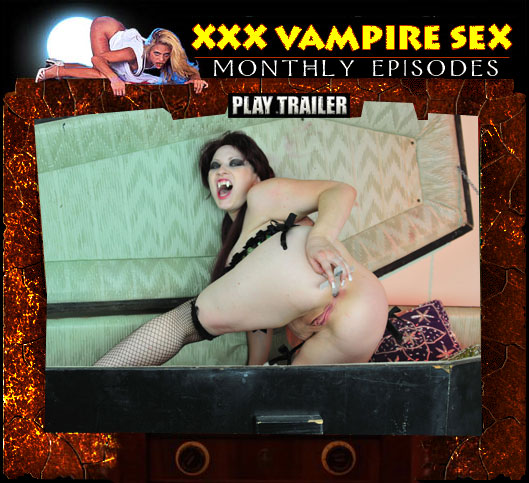 ---
Latex Sex Vampire Kendra James
Latex sex vampire Kendra James gets out of her black coffin and sits on the nearby bench to rest after the feeding she had inside. Sucking blood for a couple of hours refreshed her centuries old body. Full with sexual energy she needed to touch herself and masturbate. For long time the sex vampire did not have any hardcore with a male as there was a sexual disease spreading around killing many vampires she knew. For tens of years she decided to hide and have only solo masturbation. The wild fetish vampire grabbed the dull knife laying next to the coffin and...read the gothic story at xxxVampireSex.com.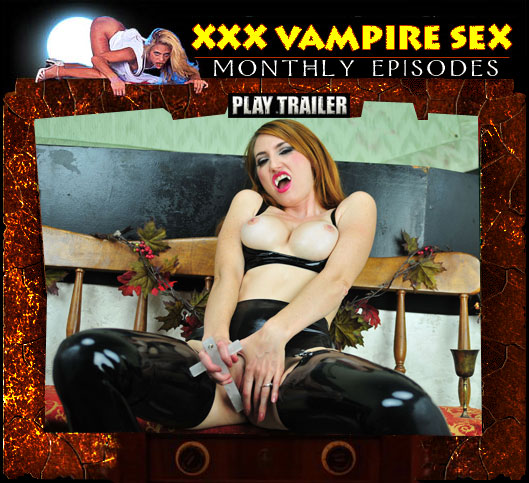 ---
Curvy Ass Vampire Sex Slut Sinn Sage
Wild vampire lesbian Sinn Sage is always horny. In this kinky vampire sex video we have captured her waking up in her glamour lair with a huge hangover from the drinking marathon she had the previous night. The first thing this crazy vamp did was to touch her wet pussy that was licked by her minion during the party. The lesbian sex was not enough so the hot ass vamp grabbed the glass dildo laying on the table by the couch and stuck it all the way in. She spread her butt chicks and...read the gothic story at xxxVampireSex.com.